Olympus RecMic II Microphone - Push Button RM- 4010P
The ultimate in technology guarantees the ultimate in accuracy!
Regular price
$349.00
Sale price
$299.99
Unit price
per
Sale
Sold out
Share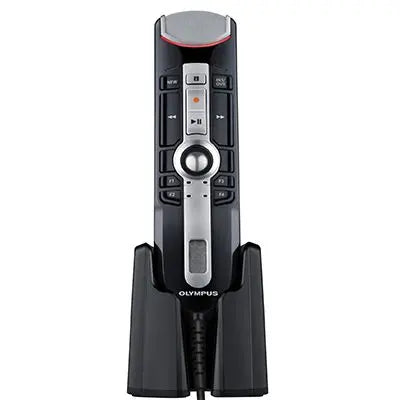 The brand new desktop dictation and speech recognition microphone, the RecMic II from Olympus has harnessed all sound reproducing technology available to deliver exceptional accuracy with any speech recognition application.
Dual microphones pinpoint to the direction of your voice to block out unwanted background noise that in the past has affected accuracy and resulted in lost productivity due to corrections and vocabulary training.
A triple layer studio quality filter further blocks no verbal sounds such as breath noise.  The intelligence built into the microphones eliminates all sounds that occur outside of the frequency range of the human voice.  Such a simple concept, combined with futuristic technology dramatically increases accuracy.
Features
Intelligent dual microphones suppress unwanted background noise.
Triple-layer sound studio pop filter blocks mouth noise.
Antimicrobial housing keeps equipment hygienic.
Microphone stand offers optimal hands-free dictation.
Trackball for improved navigation.
Smooth UV coating and silent buttons to reduce touch noise
ACCURATE & CLEAR SPEECH RECOGNITION IN A NOISY ENVIRONMENT
Dual microphone technology creates narrow directionality that focuses on the acoustics in front of the microphone and suppresses unwanted noise from the sides and back.
PROFESSIONAL STUDIO-QUALITY FILTERING
The triple-layer pop filter uses the same technology found in professional studio recording microphones to block unwanted but difficult-to-eliminate sounds such as breath and wind vibrations.
ANTIMICROBIAL BODY
The housing and buttons on every RecMic II are made of antimicrobial coating materials (ISO 22196). The "tolerance to alcohol" design allows for superior cleanability.
INTUITIVE CONFIGURATION
The RecMic II is easily configurable with third party applications including web applications without having Olympus software running, and can be used as a USB Keyboard for easy control simply by changing modes.
Specifications
Overall frequency response: 200 - 9,000Hz
Microphone sensitivity: -39dBV
Microphone sensitivity difference: Conference: 0dB; Dictation: -12dB; Voice Recognition: -18dB; Variable: -7 to -56.5dB
Maximum output: 350mW
Microphone/speaker diameter: 8mm/28mm
Power consumption (current): Standard mode: 278mA or less; Low power mode: 80mA or less
Input level: +86dBSPL(-48dBv)
Includes: Microphone Stand
Operating systems: Windows: Windows Vista/7/8.1/10; Mac: Mac OS X 10.5~10.12
RecMic configuration tool
Cable length: 2.5m
Dimensions: 171x43.2x32mm
Weight: 185g