New Olympus DS-9500 WiFi Digital Dictation Recorder
New Olympus DS-9500 WiFi Digital Dictation Recorder. Replaces previous flagship DS-7000 recorder.
Regular price
$629.99
Sale price
$599.99
Unit price
per
Sale
Sold out
Share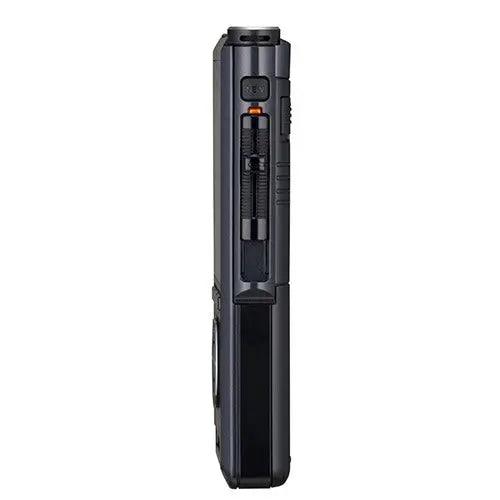 Introducing the Olympus DS-9500 digital voice recorder - the ultimate tool for capturing high-quality audio recordings in any setting.
With its sleek and stylish design, the DS-9500 is not only easy to carry, but also looks great on any desk or workstation. The recorder features a large color TFT LCD display and intuitive menu navigation, allowing you to quickly access the features you need.
The DS-9500 boasts advanced audio features, including a 2-microphone system for superior stereo recording quality, and a low-noise directional microphone for recording in noisy environments. The recorder also features a variable control voice actuator, which only records when sound is detected, saving valuable recording space and battery life.
In addition to its superior audio quality, the DS-9500 also comes equipped with Wi-Fi connectivity, allowing you to easily transfer recordings to your computer or mobile device. And with its durable construction and long battery life, the DS-9500 is the perfect tool for professionals in fields such as law, journalism, and healthcare.
Overall, the Olympus DS-9500 is the ultimate digital voice recorder for those who demand the best in audio quality, ease of use, and connectivity. So, if you want to capture high-quality recordings, the Olympus DS-9500 is the way to go!


The New Olympus DS-9500 WiFi Digital Dictation Recorder is here and it is incredible!
From the industry leader is efficiency and reliability comes the latest in a long line of digital dictation success stories, the Olympus DS-9500 WiFi digital dictation recorder.
Built in WiFi compatibility
Perhaps the most requested feature for digital dictation technology has been the ability to send your voice files to your transcriptionist without a USB cord, docking station, or even a computer.  Well, here it is!
Intelligent Dual Microphones
The built in microphones can adjust their directionality to keep the focus on the person speaking, while suppressing the ambient background noise in offices, hospitals, cars, airports and any other environment that has traditionally made dictation difficult.
Triple Layer Studio Pop Filter
To ensure 100% clarity of voice the triple layer pop filter in the Olympus DS-9500 effectively eliminate unwanted sounds including breath "pops" and wind vibrations.
Shockproof Body
The Olympus DS-9500 is constructed of the highest quality materials and is certified to withstand a 4.9 foot drop.
256-bit AES Encryption
Using the DSS Pro audio codec, you will have not only the highest quality voice format for speech recognition, but security protection usually reserved for banks and financial institutions.
Directional Stereo Recording Capability
Need to record a meeting or conference from time to time?  This is not a problem for the Olympus DS-9500.  While most dictation recorders have difficulty with multiple voices due to their singular focus on directional sound, the Olympus DS-9500 allows you to record in a more omni-directional stereo format should the need arise.  Its like having two recording devices in one!
Specifications
Internal memory
2GB
External Memory
Up to 32GB SD card
Battery Life
9 Hours Recording
Recording Format
DS2/DSS/MP3/PCM
Switch
Optical Slide Switch
LCD (inch)
2.4"
Dimensions (inch)
4.76" x 1.96" x .73"
Weight
4.1 oz
Email Supported
GMail, Yahoo, Outlook, Office 365
OS

Windows 7 Ultimate/Enterprise/Professional/Home Premium SP1 (x86/x64)
Window 8.1 Enterprise/Pro/Windows 8.1 Update (x86/x64)
Windows 10 Enterprise/Pro/Home Anniversary Update (x86/x64)

Windows 11

OS (Server)
Windows Server 2008 SP2/R2 SP1 (x86/x64)
Windows Server 2012/2012 R2 (x64)
Windows Server 2016 (x64)
Virtual (WorkGroup Only)
Citrix XenApp 5/6/7 – 7.15 (TBD) & XenDesktop 7 – 7.15
Citrix Client
Citrix Online Plug-in 12.0.0 or later & Citrix Receiver 4.0 or later
Remote Desktop Service (TS) Windows Server 2008-2016
Remote App Windows Server 2008-2016
VMware Horizon View 5/6 & VMware Horizon 7-7.2 (TBD)
VMware View Client 5.0.1 or later
Microsoft Office
Office 2010/2013/2016 (32bit/64bit)
Speech Recognition
Dragon v14 Professional/Legal (Individual & Group)
Dragon v15 Professional/Legal (Individual & Group)
WiFi Network
IEEE802.11 a/b/g/n/ac
2.4GHz/5GHz
WEP/WPA/WPA2 (Personal/Enterprise)