Philips SpeechMike Premium Air Wireless Slide Switch Microphone (SMP4010)
Regular price
$509.00
Sale price
$429.00
Unit price
per
Sale
Sold out
Share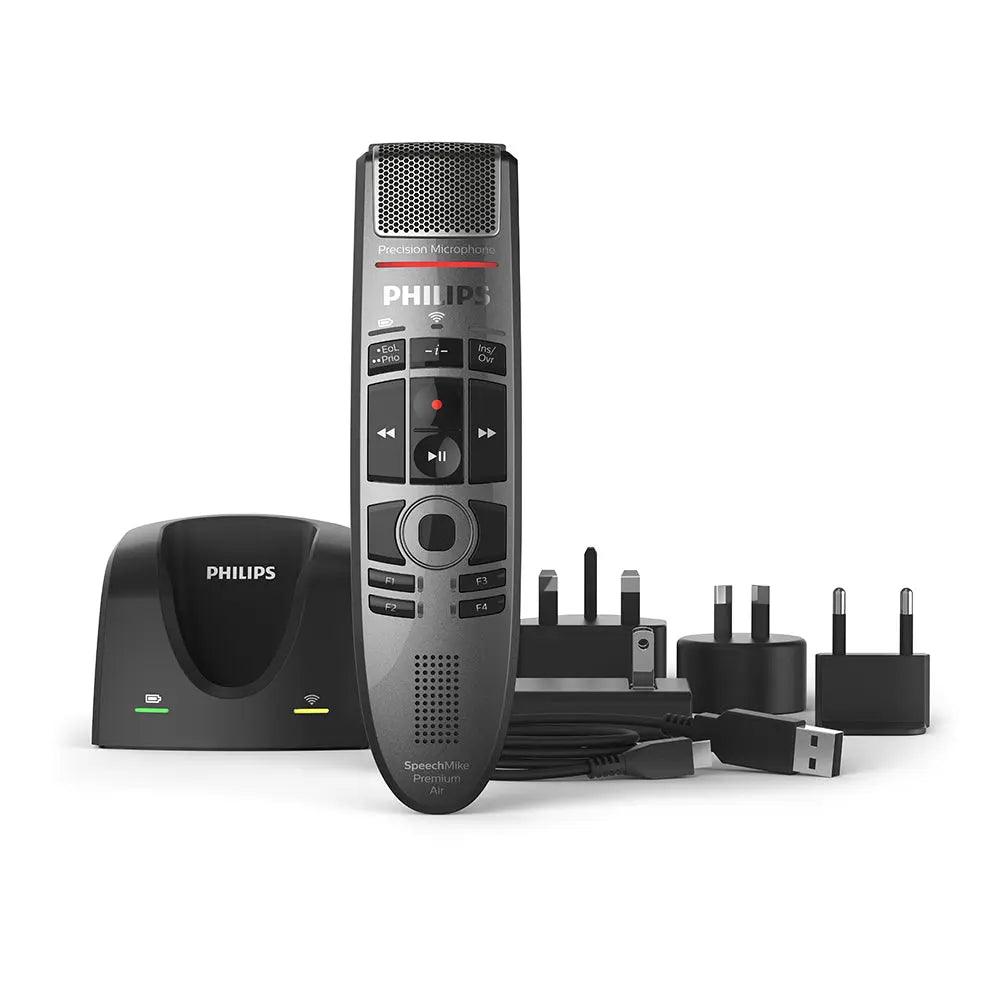 New Philips SpeechMike Premium Air Wireless Slide Switch Microphone
Connect to your computer wirelessly with 100% lossless technology!
16 foot range for untethered productivity.
New Philips SpeechMike Premium Air Wireless Slide Switch Microphone
We are proud to announce the newest innovation from Philips Dictation.  The Philips SpeechMike Premium Air Wireless Slide Switch Microphone allows you to use your favorite speech recognition program without being tethered to your computer with an unwieldy cord.
The SpeechMike Premium Air comes with a studio-quality microphone and a built-in triple layer noise reduction filter for clearest recordings and most accurate speech recognition results.
The free-floating microphone is decoupled from the device's housing, which guarantees that almost no background, touch, click, air or structure-borne noise is recorded.
Being on the cutting edge of technology, the SpeechMike Premium Air comes with an integrated motion sensor, meaning it can be controlled by the movement of your hand. It detects when it's put on the table, mutes the microphone, and once it is being picked up again it unmutes the microphone. In addition to that, custom events can be programmed, e.g., to pause and to continue the recording.
Uncompressed wireless recording enables free movement and pacing whilst working. You can easily move up to 5 meters or 16 feet away from your workstation and your recordings are safely transmitted to your computer in highest quality, without any interruptions. The cutting edge technology ensures every word is captured from the moment you press record.
The stable and innovative docking station provides wireless high-speed charging and easy pairing between your device and the docking station. Users can be flexible and work with various docking stations in different places. With an optional foot control connected, the docking station enables hands-free recording.
You can freely configure the buttons on your device or use the pre-installed Secured Dragon Mode. This mode pre-configures the buttons, optimizing them for use with Dragon speech recognition software. It requires no additional driver installation, making set up easy, even in virtual environments.
The SpeechMike Premium Air comes with slide-switch or push-button operation. The slide switch is ergonomically shaped with a softly ribbed surface for smooth tactile feedback and comfortable and intuitive utilization. In addition, our engineers implemented a millionfold proven contactless slider detection, making it completely wear-free for an extra-long lifetime.
The housing of the SpeechMike Premium Air is made of antimicrobial synthetics that work against a wide range of different microorganisms such as bacteria, viruses, fungi or algae. The polished, high quality pearl metal surface also makes the device non-sensitive to touch noises and fingerprints.
The device comes with a dust and dirt resistant touch sensor for superior quality. This allows the user to easily control and navigate within applications while recording, without having to switch between the mouse and microphone
An optional foot control can be connected directly to the docking station and used for comfortable hands-free recording control
Customers can upgrade from their previous SpeechMike model without installing additional software. For integrators, this means no changes need to be implemented and the existing SDK can be used. The SpeechMike Premium Air is compatible with Mac and Windows operating systems, as well as virtual environments such as Citrix, VM Ware and Hyper-V. It can be configured using SpeechControl, the convenient Philips hardware management tool.