Philips SpeechMike Premium -LFH3500 Push Button
Regular price
$469.00
Sale price
$369.00
Unit price
per
Sale
Sold out
Share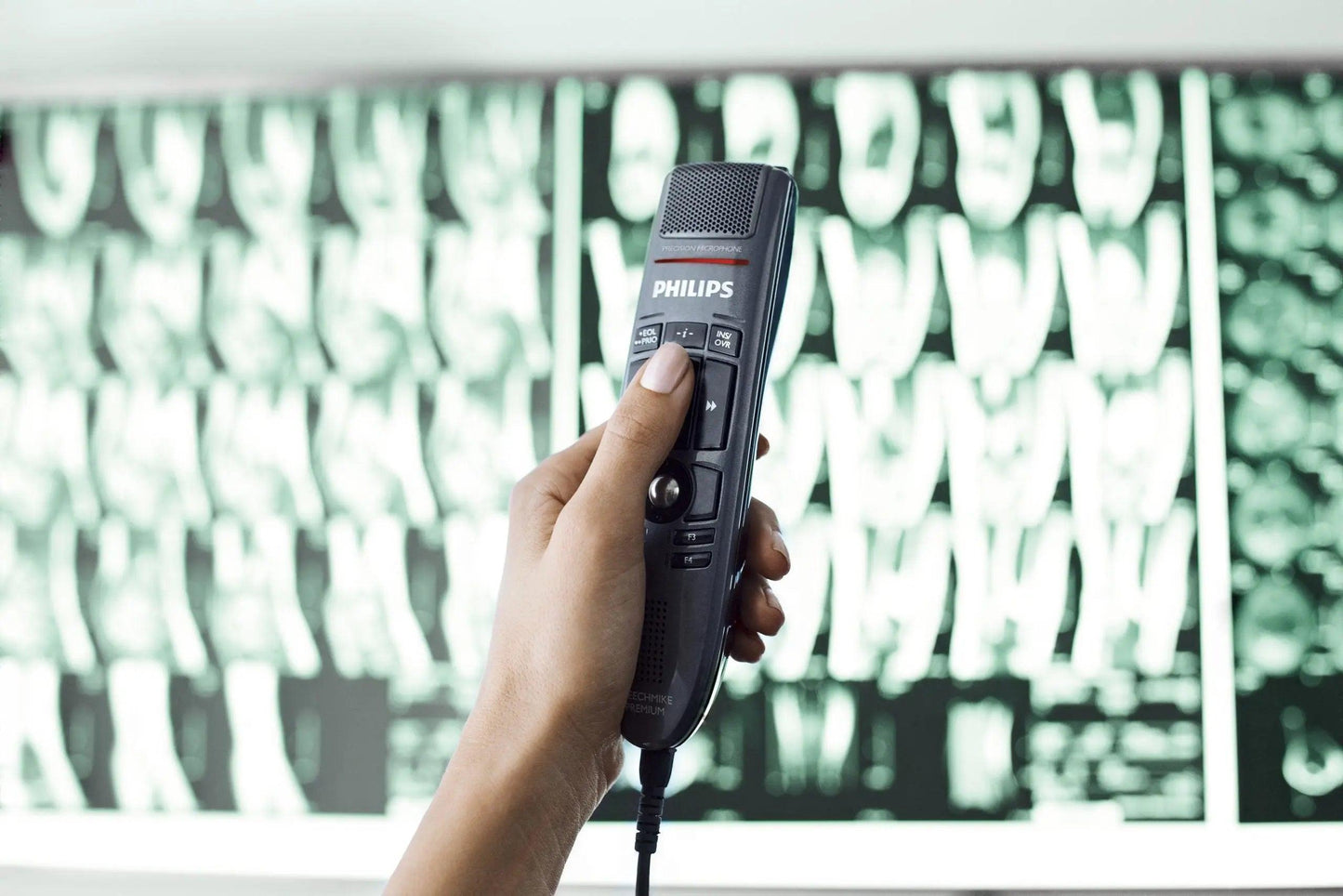 The Philips SpeechMike Premium -LFH3500. Highest Dragon rating ever. Programmable buttons.
Philips SpeechMike Premium -LFH3500 Push Button
Economical, push button design

Best in class recording

Free floating studio quality microphone

Noise filter with optimized grill

Motion sensing activation

When placed on a surface, the Philips SpeechMike Premium -LFH3500 mutes, when picked up, it activates.
Perfect for speech recognition applications

Antimicrobial

Construction

The housing and buttons of the SpeechMike Premium are made of antimicrobial synthetics, guarding against germs.

Plug and Play Compatibility

Philips SpeechMike Premium -LFH3500 is fully backwards compatible with earlier versions.
Windows, Mac, Citrix, and Terminal Server compatible.
Features
1.  New Ergonomics – New pearl-metal colored polished casing and buttons along with doubled-wall thickness in vulnerable areas, ensures durability while preventing unwanted operational noises.
2. Wing Shaped Buttons – Now with separating ribs, the new button design will assist with blind operation.
3. Scroll Wheel Functions – Configurable scroll wheel function
4. New Professional Microphone – Designed around professional studio technical standards, the new precision unidirectional studio-quality microphone offers crystal clear audio recording.
5. New Microphone Suspension – Free floating and decoupled from housing microphone helps eliminate touch and click noises for improved clarity.
6. Optimized Metal Microphone Grille – The new hexagonal grille design offers 10% more open space than round holes.
7. Integrated Noise & Pop Filters – Reduces disturbing background noise to a minimum.
8. Additional Function Buttons – Now with 4 Programmable Function buttons for personalized working.
9. Instruction Key – New programmable button offers more flexibility for speech recognition commands.
10. Integrated Motion Sensor – Can be used to avoid unintended recordings and offers additional flexibility when used with speech recognition.
11. Antimicrobial buttons – In addition to the casing, the buttons are now also antimicrobial.
12. Wear-free slide switch position detection – Metalized slider with convenient soft ribs offers a Million fold proven solution for an extra-long lifetime.
13. Larger speaker area – Provides clear and crisp audio playback.
14. Self-cleaning Stainless Steel trackball – This laser scanned, self-cleaning trackball design with dust and dirt skimmer guarantees a smooth operation over the entire lifetime.