New Olympus LS-P5 Linear PCM Recorder
Olympus LS-P5 Linear PCM Recorder Olympus LS-P5 Linear PCM Recorder featuring 3-Mic System with Adjustable Directivity
Regular price
Sale price
$249.99
Unit price
per
Sale
Sold out
Share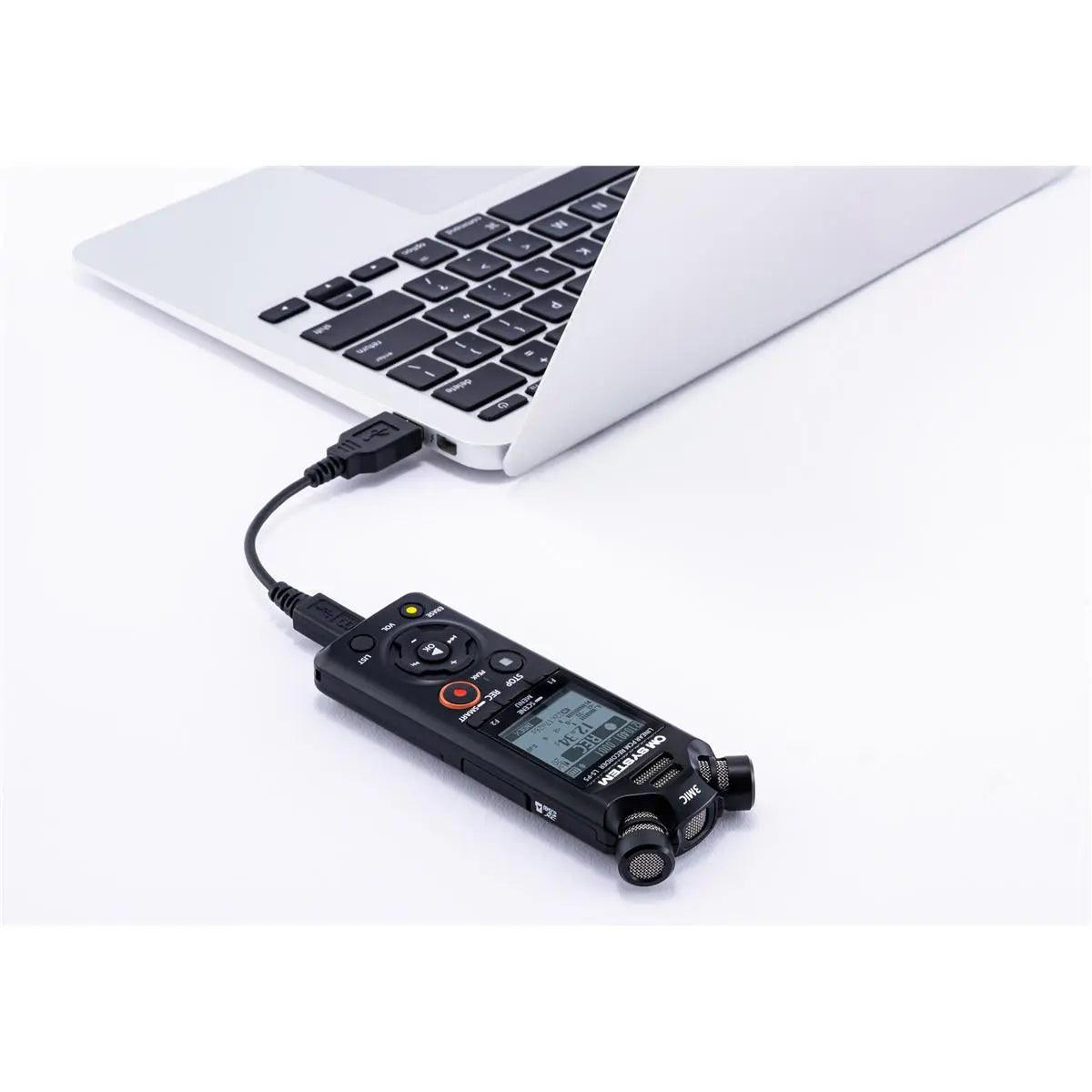 About Olympus LS-P5
The Olympus LS-5 is a solid-state stereo audio recorder with 16GB internal storage and support for microSDXC card expansion up to 2TB

The LS-P5 stand-alone audio recorder can also be connected as an external microphone to mirrorless OM SYSTEM cameras with an external microphone input using special accessories, such as the optional KA-335 3.5mm audio cable. With the optional SM2 Shock Mount, the audio recorder can be attached to the hot shoe of the camera, thanks to which the operating noise and possible vibrations of the machine can be effectively filtered out when recording the audio material.

The optional WJ-2 wind deflector, which eliminates wind noise, can be an indispensable accessory for outdoor recordings. In addition, if we use the LS-P5 sound recorder to record sounds with the camera, the sound material can be available as a high-quality original sound source in PCM format, which can later be incorporated into the edited film during video editing work on a computer. The Slate Tone and Test Tone functions make it easier to edit the sound of videos.


Versatility
One device. Countless uses.


Next Generation Sound Quality
Sound with big impact. Made possible by the new and unique microphone system.


Bluetooth Monitoring & Control
Capture audio from a distance, untethered by cables.


Size & Connectivity
A body that doesn't weigh you down. How ever you record, you need the right connections.


An Audio System
Not just a recorder. An ecosystem for audio capture.
Olympus LS-P5 Features
3 Directional Microphones (Tresmic II)
96kHz/24-bit Hi Res Audio
PCM, FLAC and MP3 recording
Auto (Smart Mode) and Manual Level Settings
Noise Cancelling Mode
Bright Sound mode offers clearer recordings of the spoken word
Low Cut filter removes low frequencies from audio to reduce ambient noise
Built in Bluetooth to monitor and control recording at a distance of up to 32 feet
Olympus LS-P5 Specifications
Microphone

3 Directional Microphones

High Quality Sound

Tresmic II

Max Sound Pressure Level

125dBspl (1% distortion)

Recording Format

PCM / MP3 / FLAC

Playback Format

PCM / MP3 / FLAC

Internal Memory

16GB (+microSDHC/microSDXC external)

Over Dubbing Function

Yes

Signal to noise ratio

Line input 92dB
built-in microphone (stereo) 57dB
built-in microphone (center) 60dB

Level adjustment with pre-recording

Yes (SMART mode)

Automatic sensitivity adjustment

Yes

Manual recording level setting

Yes

Recording level setting (external mic)

Yes

Limiter/Compressor

Limiter (music/voice)

Pre-recording function

Yes

DRC recording (Dynamic Range Control)

Voice chaser (Intelligent auto)

VCVA

Yes

Recording monitor On/Off

Yes

Noise reduction filter

Low cut filter

2-Mic Noise Cancelling

Yes

Sound Effect (while recording)

Yes (Bright sound)

Zoom microphone

Yes

Microphone select (ON/OFF)

Yes (works with directional adjustment, Off when directional set to 00)

Rec Scene

9 Types
Lecture/Conference/Meeting/Dictation/Nosiy situation/Music/DNS/custom 1/custom 2/OFF

Timer

Yes (Recording start/end)

Slate tone

Yes

Test tone

Yes

Normalize

Yes

Fade in/out

Yes

Trimming

Yes

Partial erase

Yes

File divide

Yes

Edit file name (Template)

Yes

Edit file name (Original)

Yes (using smartphone app)

Edit folder name (Template selectable)

Yes

Edit folder name (Original)

Yes (using smartphone app)

Create folder (Template)

Yes

Create folder (Original)

Yes (using smartphone app)

Playback speed control

0.5 to 3.5 times

Repeat

A-B-C repeat

Equalizer

4 types

DRC playback (Dynamic Range Control)

Voice Balancer

Noise cancel while playback

Yes

Index

Yes

Calendar Search

Yes

Intro play

Yes (3/5/10 sec.)

Power requirements

2 AAA batteries

Battery life (Recording)

(Linear PCM) Alkaline/NiMH
96kHz/24bit: Approx.29hours/20hours
88.2kHz/24bit: Approx.31hours/21hours
48kHz/24bit: Approx.47hours/31hours
48kHz/16bit: Approx.54hours/36hours
44.1kHz/24bit: Approx.50hours/33hours
44.1kHz/16bit: Approx.56hours/37hours
44.1kHz mono: Approx.59hours/39hours

Battery life (Recording) (Contd.)

(MP3) Alkaline/NiMH
320kbps: Approx.62hours/40hours
128kbps: Approx.63hours/42hours
64kbps mono: Approx.64hours/42hours

(FLAC) Alkaline/NiMH
96kHz/24bit: Approx.23hours/16hours
88.2kHz/24bit: Approx.24hours/17hours
48kHz/24bit: Approx.40hours/27hours
48kHz/16bit: Approx.43hours/29hours
44.1kHz/24bit: Approx.41hours/28hours
44.1kHz/16bit: Approx.46hours/31hours
44.1kHz mono: Approx.46hours/32hours

Speaker

18mm

Maximum speaker output

230mW

Input jack

3.5mm x1 (MIC/Line in)

Earphones jack

3.5mm x1 (EAR)

Maximum headphone output

3mW+3mW

Internal battery charge

Yes

USB

USB2.0 microB

Compatible Bluetooth version and profile

Ver.5.0, A2DP, AVRCP

Bluetooth earphones to monitor recording

Yes

Using smartphone & Bluetooth device

Yes

Smartphone app. Availability

Android/iOS
REC/REC_PAUSE/STOP/INDEX/Recording level/File name edit/Wave form display/various settings

Tripod

Yes

Battery Info

Required, Included

Battery Material

Nickel Metal Hydride

Battery Type

AAA

Battery Quantity

2

Dimensions (W x H x D)

1.55 x 4.41 x 0.63" (39.6 x 112.2 x 16.1mm)

Weight

2.75 oz (78g) (Including battery